7-Day Exumas Sailing Trip
(One Way)
George Town to Staniel Cay Sample Itinerary
Day 1:
George Town
Arrive in George Town. Meet your crew on the docks behind Exuma Markets. They will gladly transport you and your bags to the boat by dinghy, or if you'd prefer to spend some time exploring town while they get your things situated on board, they can hand you a VHF radio and give you pointers on the best places to check out around town.
As soon as you're ready, we'll make our way across the harbor for our anchorage for the evening, where you'll enjoy sunset and dinner under the stars.
Day 2:
LEE Stocking Island
Depart George Town and head north, toward Rat Cay Cut.
Enter the Exuma Sound and hoist the sails, enjoying the deep blue open water and views of Great Exuma from her eastern side.
After entering Rat Cay cut approximately 3 hours later, navigate a multicolored mix of channels and sandbars toward Lee Stocking Island, home of the once-­famous Perry Institute for Marine Science.
This island is criss-crossed with pristine hiking trails and its crystal-clear water makes it a great place to observe the local population of Atlantic stingrays by paddle board.
You'll also have the opportunity to visit  endangered pink-skinned Exuma Rock iguanas on an island nearby.
Day 3:
Little Farmer's Cay
Explore Little Farmer's Cay, an island of 55 residents, and the only island in the Bahamas to have its very own flag.
Meet J.R. the famous wood carver. Stroll though his diverse and beautifully manicured gardens, and pull up a chair to hear his stories of the Bahamas of 50+ years ago. Pick out one of his unique wood sculptures to take home, carved from local tree branches.
Make plans for a dinner with Terry & Ernestine at Ocean Cabin or try the famous BBQ ribs at Ty's Sunset Bar & Grill. Don't forget to stop for delicious ice cream at Kenia's Deli Delight.
As you head back to the boat, make sure you've got your swimsuit on. The harbor in Little Farmer's Cay has been established as a sanctuary and it is frequented by gregarious sea turtles and an abundance of sea life.
Around sunset, warm up with a bonfire on the southern end of Great Guana Cay, and watch the ospreys come and go from Oven Rock.
Before pulling up anchor and heading north in the morning, hike to the nearby cave for an up-close-and-personal look at magnificent stalagmites and stalactites formed over thousands of years by water slowly filtering through the island's limestone landscape.
Day 4:
Warderick Wells
Sail north into the Exuma Cays Land & Sea Park, a no-take zone for over 60 years. It has some of the richest marine and biodiversity in the Bahamas. Warderick Wells is the home of the park visitor center and offers walks through limestone karst landscape marked by shoreside blow holes and stunning aquamarine views over the many sand bars in the area.
You'll have the opportunity to relax on the beach, snorkel one of several reefs, climb up to Boo Boo Hill, where the sailing vessels cruising the area often leave painted driftwood pieces to commemorate, and get up close and personal with the skeleton of a 52′ sperm whale resting on the beach near the park office.
Boo Boo Hill also happens to the one of the only places in the area with even a smidge of cell phone coverage, so if you're determined to post the day's pics to Insta, that's the place to go.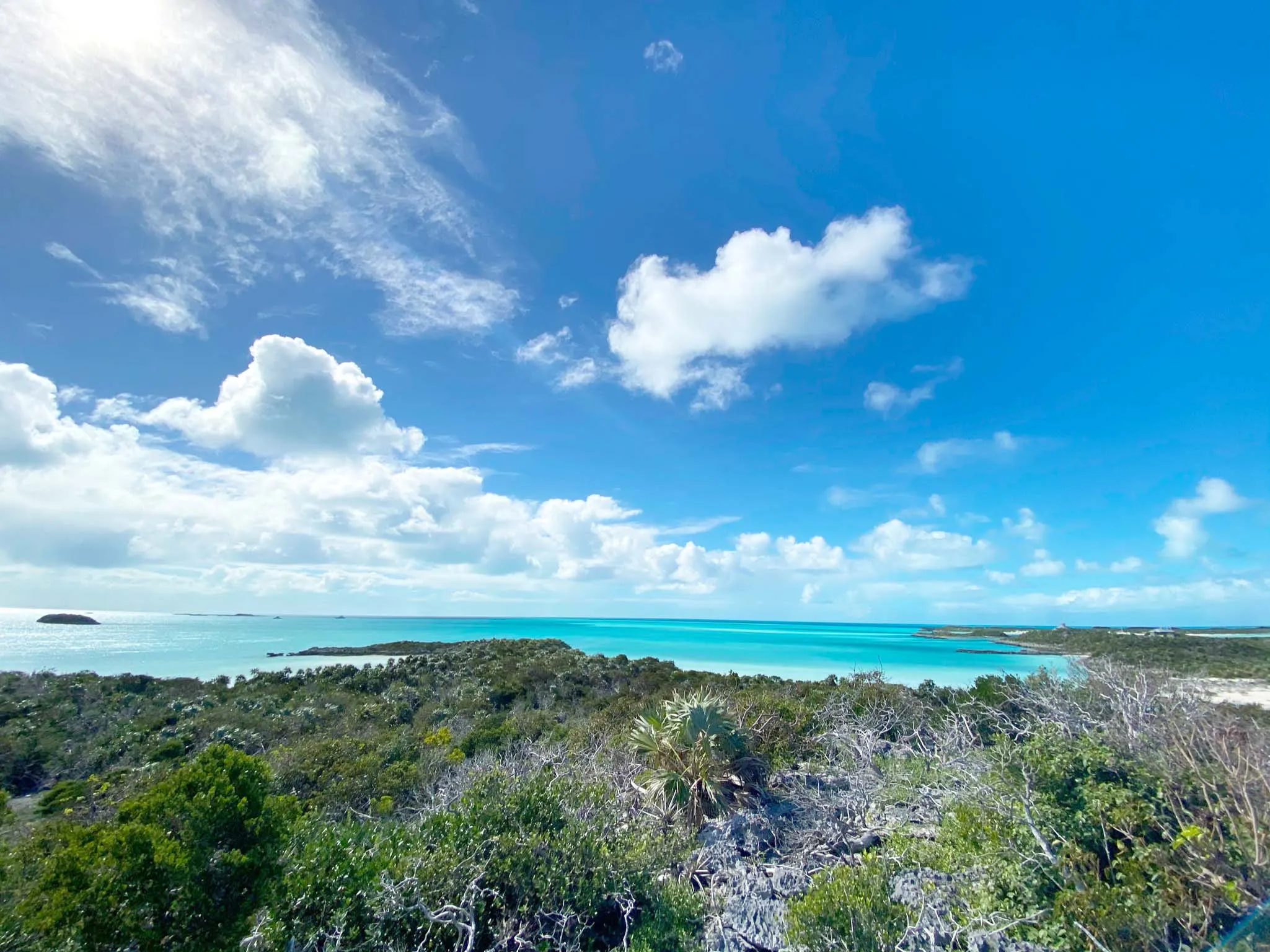 Day 5:
Shroud Cay
Head deeper into the Exuma Cays Land & Sea Park to Norman's Cay and Shroud Cay.
Snorkel a crashed drug smuggling plane in the shallow waters at Norman's, then head south to drift through the mangrove creeks at Shroud.
On the ocean side of Shroud Cay, pull the dInghy over and walk up the hill to check out Camp Driftwood, drug agents' base of Operations when surveilling Carlos Lehder's operations at Norman's Cay in the late 1970s and early 1980s. Catch it on an incoming tide to float the lazy river back through the mangrove creeks as you return to your anchorage for the evening.
Day 6:
Compass Cay
Travel south via O'Brien's and Cambridge Cays to Compass Cay. Stop to snorkel at The Aquarium, a busy shallow-water reef filled with colorful corals and fish.
Then grab a mooring ball and jump in the dinghy to snorkel the caves at Rocky Dundas or take a short hike and a soak in Rachel's Bubble Bath, where the ocean meets a narrow creek outlet and splashes giant waves against the rock face bordering the eastern side of the pool, filling the water with champagne-like bubbles.
To end the day, enter splendidly colored turquoise and aquamarine Pipe Creek and drop anchor in one of the Exumas' most scenic and protected anchorages.
Head to Compass Cay Marina to get up close and personal with their friendly nurse sharks. Wade into the water and marvel as 20+ nurse sharks of all sizes glide past you, grazing you with their leathery skin, and seemingly completely unperturbed by your presence.
Watch the sunset from Pipe Creek and enjoy a peaceful and relaxing dinner aboard.
Day 7:
Staniel Cay
Experience the sights around Staniel Cay.
Have a meal and a beverage at Staniel Cay Yacht Club, snorkel Thunderball Grotto – a coral- and tropical-fish-filled underwater cave full of made famous by two James Bond movies and the movie Splash – and visit the famous swimming pigs at Big Majors.
Tomorrow you'll catch your flight out from Staniel Cay.
Check out our sample 7-day roundtrip Exumas sailing itinerary.